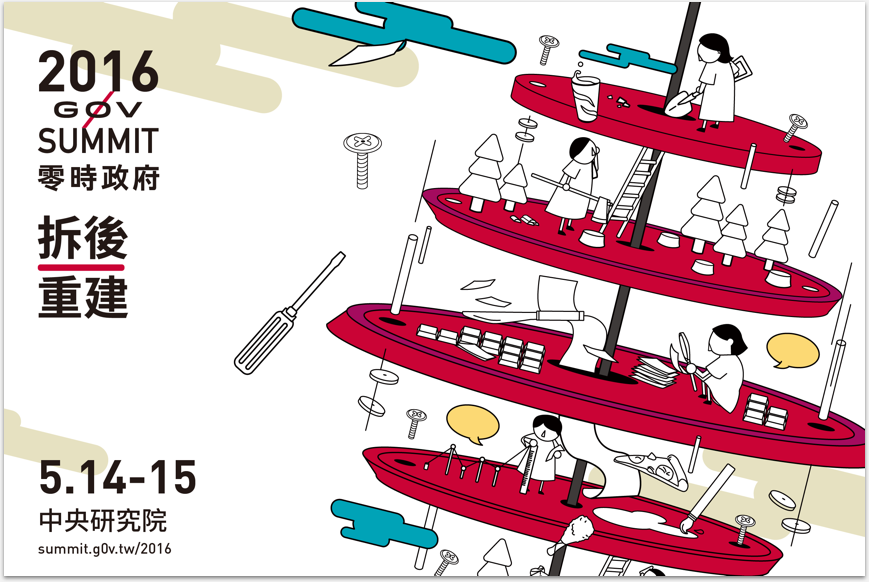 2016 g0v零時政府summit的主題為拆後重建,因此以一個輕鬆的插畫呈現。藉由分解的零件、工具與小人偶動態,讓以往沒有參與經驗的會眾能感受到g0v的初階印象。在長久參與的部分,各樓層的動態以g0v參與者的行為作為發想,進而繪製出一幅屬於零時政府的圖像。
Returning for a second year after 2014, the g0v Summit 2016 will again invite the global civic tech community to share their experiences for collaboration between public servants, technologists, and NGO workers.
g0v summit 2016 is set to be held on May 14th, 2016, at Humanities and Social Sciences Building in Academia Sinica, Taipei, Taiwan. 750 participants are expected to attend the conference. Open Government, Open Data, and civic tech engagement in civil movements are expected to be covered in the programmes.
本專案所有提供下載之檔案採CC-BY授權
This work is licensed under a Creative Commons Attribution 2.0 Generic License.